Elevator Pitch Essentials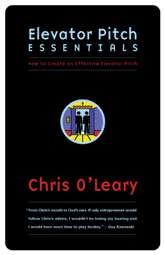 An effective elevator pitch is a tool that every entrepreneur must possess. Because of the critical role that entrepreneurship plays in the success of this country, and what I feel is the need for an entrepreneurial renaissance, I have decided to make Elevator Pitch Essentials available over the internet for personal use.
All ask is, if you find this book to be valuable, that you recommend it to your friends, write a review on amazon.com, and consider buying a hard-copy or electronic copy.
This book is also available in hard-copy form for use by sales and other organizations that are interested in the elevator pitch. Hard copies and excerpts are also available for use in business, entrepreneurship, and other courses.
Please contact me with volume purchasing and excerpt licensing questions.